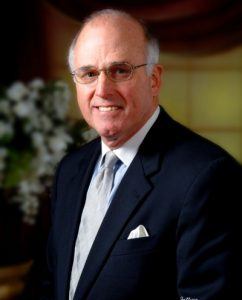 Recover America has remained active throughout the COVID lockdown, conducting dozens of Zoom Calls with outstanding Christian Leaders which you can access on this site and which remain very informative and relevant. Dr. Scarborough also launched his very successful podcast through Charisma Ministries working with his longtime friend who is the Owner and Founder, Mr. Steve Strang. These two men illustrate that Christians from differing faith backgrounds can find common ground at the foot of the cross and work together to advance the Kingdom.
Dr. Scarborough often says:
"I am very proud of my Southern Baptist roots. I was provided an excellent Theological education at virtually no cost due to the kindness and generosity of millions of Southern Baptist Christians, but I learned a long time ago that God is bigger than our tags. If you go to Heaven, your tag will drop off. If you go to hell, your tag will burn off! One way or another they will all come off and the important thing is knowing that you know Jesus."
Recover America is a non-denominational ministry, with Board Members representing both Charismatic and non-Charismatic churches, united in their commitment to call believers from every faith persuasion who love God and love America to join us in our mission to take Jesus into the civil arena and provide Biblical solutions to practical problems. We believe the Bible speaks to every area of life and that Pastors are the key to a Third Great Awakening.
Dr. Scarborough's podcast is appropriately called, Mixing Church and State God's Way. The success of the podcast has been very gratifying, with over 100,000 downloads in the first twelve months making it one of the most popular podcasts in the Charisma family of over 300 podcasters. We have regular subscribers from around the world including Russia, Canada and Mongolia. He has also written several new eBooks while working from his home, which you can access on the RAN site. If you sign up for his weekly podcast you will automatically receive your gift copy of the eBook, Mixing Church and State God's Way.
On May 10, 2021, Mr. Hunter Kelly joined the Recover America Now Team as Vice President, leading the Communications and Social Media team and the Millennial Outreach efforts.
Dr. and Mrs. Scarborough met and became acquainted with Hunter in Washington DC while facilitating Bible studies with members of Congress and other governmental leaders. At the time, Hunter was working for Senator Tim Scott as a member of his Legislative team. Hunter later joined the staff of Senator Josh Hawley, serving on his Communications team. He brings a rich resumé of practical experience as well as a deep commitment to Christ. Dr. Scarborough recently spoke to our financial partners and commented that Hunter will enable us to reach a whole new generation of activists who love our Lord and our country.